The Tet holiday will come in the next three weeks opening a wide range of festive events that will take place throughout the country. The biggest holiday and festive events in the country contribute to the increasing attractiveness of Vietnamese tourism.
The 9th Da Lat Flower Festival 2022 themed "Da Lat- City of four flower seasons" took place for nearly two months and ended on December 31, 2022, with various events. The festival attracted 37 delegations of domestic visitors and 14 delegations of foreign tourists featuring a total number of 1.8 million arrivals.
Ms. Nguyen Phuong Thi, a visitor from Dak Nong Province's Krong No District said that the exhibition space in this year's festival left a good impression on visitors, showing a harmonious combination of the cultural spaces of the North and the Southern Highlands. The festival included many interesting activities, such as a street carnival, and a hot-air balloon festival. The province ensured stable prices during the festival.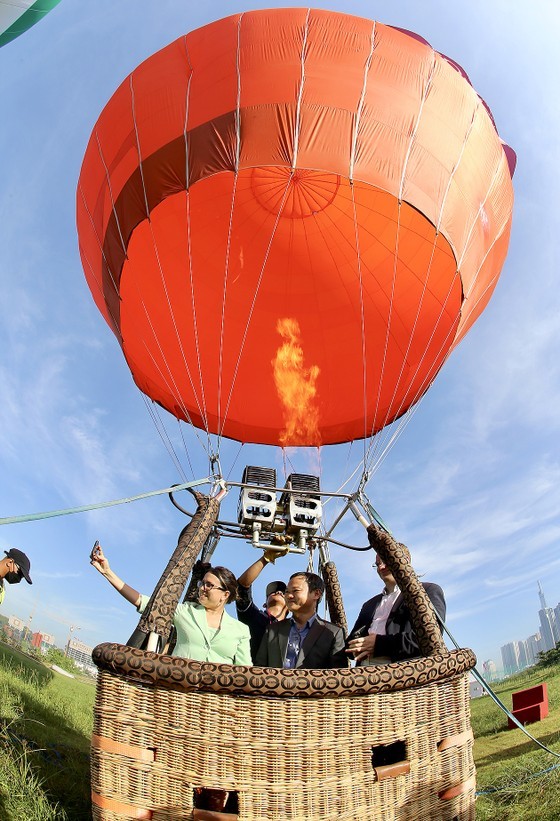 Hot air balloon festival in HCMC (Photo: SGGP)
Meanwhile, the first-ever shark catfish festival took place from December 16-17 in the Mekong Delta province of Dong Thap drew a huge number of visitors. The festival acted as a chance for enterprises to meet and share market information, connect supply and demand in the domestic market, and seek out potential partners in the sector as well as promote the fish with the export revenue that reached nearly US$2.5 billion in 2022.
In the northern region, Huong Pagoda Festival and the Tam Giac Mach (Buckwheat) Flower Festival attracted a large number of visitors. Buckwheat flowers in Dong Van Karst Plateau Geopark have become a tourist icon of Ha Giang Province. The festival gave travelers a chance to enjoy the view of a floral road on the ancient street of Dong Van as well as various folk games of ethnic minorities, sports events and traditional cuisine.
Last year also saw programs promoting Vietnamese tourism at the 2022 Vietnam Tourism and Culture Festival taking place in Seoul and Gwangju in the Republic of Korea (RoK) from October 13-19; conferences promoting tourism cooperation between Vietnam and Singapore, Vietnam and Japan, and events co-organized by travel businesses in coordination with foreign consulates general of the US, the UK, France and Japan.
However, most of the festivals are not diverse and attractive and see a lack of connectivity between localities. Travel enterprises do not know the exact date or time of the events to introduce to visitors.
According to statistics, the number of international visitors to Vietnam in 2022 reached 3.66 million. The total number of domestic tourists was more than 101 million. The industry eyes revenue of VND495, 000 billion (US$21 billion) exceeded the target by 23 percent and was equal to 66 percent compared to 2019.