Six-nation talks aimed at ending North Korea's nuclear program have entered a fourth day amid a slightly warmer climate, with the US envoy saying negotiations were tough but offered a glimmer of hope.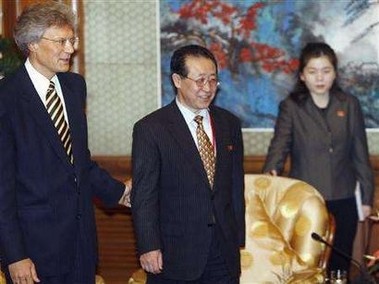 Russia's top envoy and ambassador to China, Sergey Razov (L) and North Korea's top envoy Kim Kye-Gwan (C) during six-party talks at the Diaoyutai State Guesthouse in Beijing
The talks resumed on Monday after a 13-month break with North Korea, emboldened by its first-ever atomic test on October 9, outlining a long list of hardline demands to be met before it would even consider disarming.
Delegates to the talks -- which involve the two Koreas, host China, the United States, Japan and Russia -- have said those demands were not acceptable.
However US envoy Christopher Hill said late Wednesday, after a second straight day of direct talks with his North Korean counterpart, Kim Kye-Gwan, that he had not given up hope of progress.
"The discussions are not easy -- actually, they are very difficult, but we are encouraged by the process," Hill told reporters.
Hill and the Chinese side have said they want North Korea to recommit to a six-party deal brokered in September last year, in which it said it would give up its nuclear program in return for energy assistance and security guarantees.
Hill said Thursday that was still the goal, and he was pushing for concrete commitments to be achieved this week.
However, other officials and delegates involved in the talks have said there was little chance of a major breakthrough this week.
"We are still far away from beginning to (even) talk about dismantling North Korea's nuclear weapons," a South Korean official in Beijing told reporters.
Japan's chief envoy to the talks, Kenichiro Sasae, also offered a downbeat assessment on Wednesday night.
"Our basic stances remain far apart. At this point, I cannot say that the outlook is optimistic," Sasae said.
The South Korean official said the biggest stumbling block had been North Korea's demand that US sanctions imposed on Pyongyang last year for alleged money laundering and counterfeiting be lifted ahead of any disarmament moves.
The sanctions have seen bank accounts in Macau that are crucial to Pyongyang's ruling elite frozen.
Financial teams from the two nations met on Tuesday and Wednesday in Beijing on the sidelines of the six-party forum to discuss the standoff, but they finished without any agreement being reached.
The US chief negotiator to the sanctions talks, Daniel Glaser, told reporters late Wednesday only that the two sides may meet again in New York next month.
North Korean envoy Kim also said on Monday that United Nations sanctions imposed on his country following the atomic test must be lifted before it would consider surrendering its nuclear weapons.
Kim further demanded that North Korea be given help in building a nuclear reactor for power needs, and that the US policy of "hostility" towards it must be dropped.