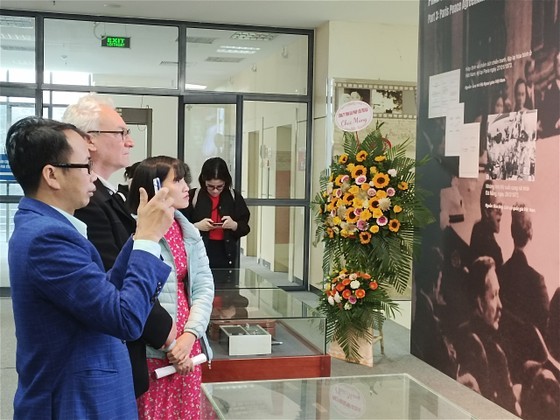 Visitors to the exhibition (Photo: SGGP)
The exhibition, opened on January 5, is held by the National Archives Center III under the Ministry of Home Affairs' State Records and Archives Department. The documents, images and artifacts on display are being preserved at the National Archives Centers II and III; the archives of the Foreign Ministry, the Vietnam National Museum of History, the national archives of the US and Russia, the liaison board of war veterans who once served in the Joint Military Group at Davis Camp, and some witnesses of the negotiation.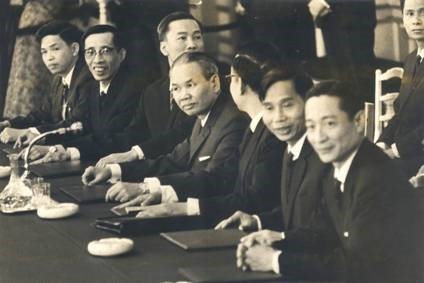 The Vietnamese delegation at the negotiation (Photo: Ministry of Foreign Affairs)
The Paris negotiations lasted for nearly five years, with bilateral talks from May 13 to October 31, 1968, and four-party talks from January 25, 1969 to January 1973.
After 201 open sessions, 45 high-level private talks, 24 secret meetings, 500 press conferences, 1,000 interviews and hundreds of get-togethers in support of Vietnam, the Paris Agreement was signed on January 27, 1973.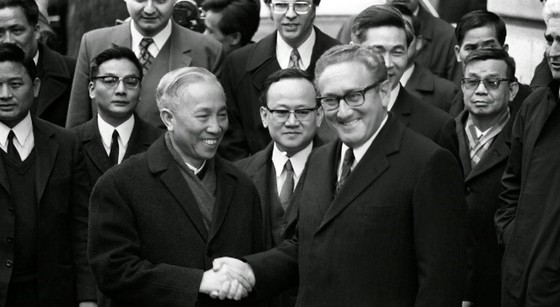 Henry A. Kissinger and Le Duc Tho shake hands after the signing of the Paris Agreement. (Photo: US National Archives)
The agreement put an end to the longest and most difficult struggle in the history of Vietnam's diplomacy.
In his remarks, Deputy Minister of Home Affairs Nguyen Duy Thang stressed that the exhibition is of historical and cultural significance, saying it has given historians and diplomats as well as the public great insight into the Paris Conference, honored the Party's leadership and promoted glorious traditions of the nation.
At the exhibition, historical witnesses who directedly contributed to the success of the Paris Conference shared their own stories.