European Union leaders began a two-day summit that will see them slow down the process of EU enlargement until they can reform the bloc's creaking institutions.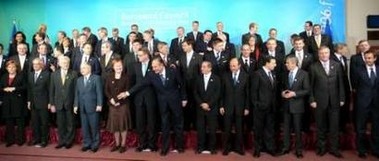 Heads of State gather for the traditional family photo session at the EU summit in Brussels December 14, 2006.
"The most important issue is the problem of whether we want to go on with further enlargement without having arranged the institutional settings or we want to have our house in order with full acceptance by EU inhabitants," Luxembourg Prime Minister Jean-Claude Juncker said as he arrived.
"I think we are very clearly stating that enlargement can only take place under certain conditions, but that is something else that we can limit," echoed Dutch Foreign Minister Ben Bot, who will take part in a parallel foreign ministers meeting.
The leaders will also confirm the partial suspension of membership talks with Turkey, whose rocky path toward Europe's rich club has embodied the concerns and fears about the bloc's ability to take on new members.
On Monday EU foreign ministers agreed to freeze eight of the 35 membership chapters which Ankara must successfully complete prior to joining the EU.
Over their evening meal, the 25 heads of state and government were laying out their visions for enlargement after Bulgaria and Romania come on board as the 26th and 27th members on January 1.
"The aim is to confirm a common understanding on the future of the enlargement process," Finnish Prime Minister Matti Vanhanen, hosting the summit as EU president, said in an invitation to his fellow leaders.
A constitution was meant to help the EU run more smoothly as it grows but it was rejected by French and Dutch voters in referendums last year.
Those votes, due in part to fears of "enlargement fatigue" and the idea of a large, relatively poor and mainly Muslim country like Turkey joining, sent the Union spiralling into its worst-ever crisis.
The leaders are expected to concede that the impasse over the constitution must end before new members are considered.
The German EU presidency, starting on January 1, is expected to revive talks on the constitution, though probably not using that term, and plot a roadmap for its acceptance. However no substantive decisions are expected before France takes over the helm in the second half of 2008.
German Chancellor Angela Merkel said it would be a "historic failure" if agreement on a constitutional treaty was not struck before European elections in 2009.
Whatever the outcome here, the leaders' stance will have major repercussions for Turkey, which began often-torturous membership talks last year, but also for EU candidates like Croatia and Macedonia and other hopefuls in the Balkans.
Other issues on the summit agenda include the increasingly high-profile issue of sustainable energy supply, but the real initiatives on that subject are also expected to be taken up by Germany.
An issue threatening to muscle its way onto the agenda was EU attempts to forge a fresh partnership with Russia.
Polish President Lech Kaczynski said he would present "a compromise" deal here to allow the launch of EU-Russia talks on a cooperation accord.
Last week Poland indicated that it was ready to drop its veto on EU negotiations with Russia if Moscow ends an embargo on Polish meat within 50 days of the start of talks, imposed over concerns about food safety.
With Turkey resolved for now and nobody keen to wade too far into the issue of institutional reform, one other issue, Serbia, is looming as a possible bone of contention, in what is likely to be a quiet and short summit.
The Union froze in May talks on closer ties with Serbia over its failure to hand over former Bosnian Serb military chief Ratko Mladic to the UN war crimes court.
The bloc is expected to reaffirm its desire to see Belgrade join the bloc one day, but reflect divisions among the member states on how to best support democratic forces in the country.
"We welcome Serbia," Solana said after talks with visiting Serbian President Boris Tadic. "It is a country that we want to see in the European Union."