The Prime Minister has authorized an increase in electricity prices from January 1.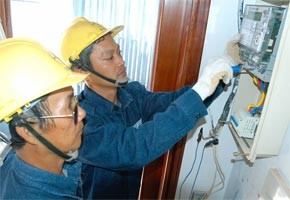 Ho Chi Minh City Power Company employees install a new electricity meter in a house in Binh Thanh District (Photo: SGGP)
The retail price will rise to VND842 per kWh on New Year's Day and to VND890 per kWh in July 2008. From 2010, the official policy will be to let the market decide the rates.
In giving his approval for higher prices, the PM set three conditions: poor people, other low-income earners and rural residents, who make up 80 percent of the population, must be given "support"; subsidies must be gradually abolished; and electricity saving must be encouraged.
With the special policy for rural areas, the ceiling price for non-business activities in the countryside will be VND700 per kWh as of January.
The PM said power companies must cut their management costs and stem electricity bleeding. The targets for the industry are to save 3-4 percent of costs per year, equal to VND1.3-1.8 trillion, and reduce electricity losses from the national grid to 8 percent by 2010.
The Ministry of Finance calculates that a household using 150 kWh per month will pay an additional VND13,000 because of the higher rates.
The additional payments for using 200, 300, 400 and 500 kWh per month will be VND25,000, VND50,000, VND80,000 and VND117,000 respectively.
The Ministry of Finance has asked the Ministry of Industry to show electricity regulators in rural areas how to reduce their costs and electricity losses so that the ceiling price of VND700 per kWh for non-business activities stays viable.