The Ministry of Foreign Affairs is collaborating with offices involved to search for two Vietnamese nationals aboard a missing Taiwanese ship since late February, said Ministry Deputy Spokesperson Pham Thu Hang.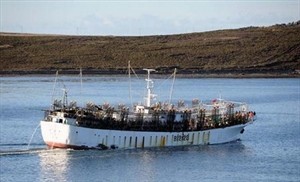 The missing Taiwanese ship (Source: wantchinatimes.com)
Responding to reporters' queries on March 9, Hang stated that after being informed of the case, the ministry instructed the Vietnamese Economic and Cultural Office in Taiwan and the Vietnamese Embassy in Argentina to work with local offices in the search.
Earlier, it asked the Consul Department to coordinate closely with domestic offices to identify the two missing sailors.
The two Vietnamese sailors are among 49 crew members on board the Taiwanese ship which vanished on February 26 in the southern Atlantic Ocean without a mayday call, but shortly after its skipper reported it was taking on water.
The vessel was sailing about 1,700 nautical miles (3,148 kilometres) off the coast of the Falkland/Malvinas Islands when it vanished, according to recorded satellite data.