During May, senior high schools often organize a year ending ceremony to honor good students and twelfth graders who can show their gratitude to parents and teachers who look after them for their growing up years.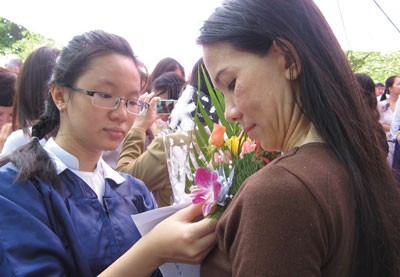 Twelfth grade students of Nguyen Thi Minh Khai Senior High School put flowers on a parent's shirt to show their gratitude to parents (Photo: SGGP) (Photo: SGGP)
Speaking at such a ceremony at Nguyen Thi Minh Khai Senior High School in District 3  in Ho Chi Minh City,  a student representative for all twelfth grade students said, 'Dear parents, eighteen years has passed by since we were born. Parents have looked after and taken care of us without asking anything back. We have made mistakes as we are too young to understand the love of parents. Today, in this ceremony, all of us bow and ask for your forgiveness. In fact, we will always keep in hearts your merits.'
 
Hearing such loving words, parents were very moved and happy as their little children had grown up and understood parents and teachers merits and difficulties in bringing them up.
 
Many students write letters expressing their gratitude to parents. Khue Tu from class 12A11 says in her letter to her daddy that thanking daddy for teaching her to play the guitar, chess and badminton, for buying good books, for listening to her difficulties in relationships with her friends and guiding her in life.
 
A letter to late mother of student Phuong Thao of class 12A13 made many of her friends burst to tears. She wrote, 'Seven years has passed, mother? You are now living in a peaceful place where you no longer do hard work in markets to earn pennies to support the family. In previous days, when you were alive, I did not say to you that I love you so much but I was always stubborn not to listen to your advice. I was so stupid those days. At present, I feel jealous of friends who are brought to school by their moms and have intimate conversation with their beloved mothers.
 
The ceremony is organized by private schools as well as public schools in the City. It has become a beautiful feature of the educational system in which sacred moments are engraved in students' minds for their entire lives.