The new school model for Vietnam (VNEN) program has been applied in primary schools nationwide since the 2012-2013 academic year that focuses on reforming teaching method and assessment to childrent in line with new standards. It could be considered as a better method to children for the wider world and help them to speak out what they think.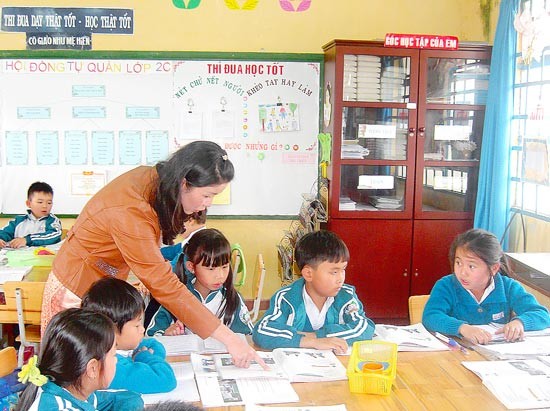 Students of class 2C study in groups and teacher plays as facilitator in the new model of learning (Photo: SGGP)
Looking at the Vietnamese language period of Class 2C in Da Thanh Primary School in the suburban district of the central highlands city of Da Lat, students were divided in to teams to discuss the lesson. 

Team leaders are dignified in their speech showing their real role in leading the peers. Teachers just act as facilitators and will only intervene in case of necessity.

Teacher Bui Thi Kim Dung of Class 2C said that she and her colleagues spent a lot of times guiding students the new learning methods by actively reading books and searching for more documents to supplement the lesson in textbooks.
When students get accustomed to the new learning method, teaching is simpler. With better self-awareness of learning, students are confident to deliver their speech before the class; and there should be a close coordination between teachers and parents to encourage practice at home, said teacher Dung.

From the 2012-2013 academic year, Da Thanh Primary School has applied VNEN for second and third graders and til now it has been taught for fifth graders.

Principal Le Thi Kim Oanh said that teaching quality is improved and students become more confident. Teachers' skill is enhanced in an attempt to intruct their students to cope with the new method. 

According to teachers, VNEN helps form friendliness and students are not afraid when their teachers give them the question. The modest and diffident students become more active to raise questions of what they don't understand to teachers and their peers. Especially classes have some K'Ho ethnic minority students who are very shy and modest also become active.

Nguyen Kim Long, head of the Primary Section of the Department of Education and Training in the central highlands province of Lam Dong, said that VNEN has been applied in 18 primary schools in the province.

Director of the MoET's High School Education Department Vu Dinh Chuan said the application of the new model as per the decree No. 29 on education reform is expected to pave the way for the next new teaching methodology. 
VNEN will be implemented in junior high schools in the northern provinces of Lao Cai, Ha Giang, Hoa Binh, the central province of Khanh and the central highlands provinces of Dak Lak and Kon Tum.

Currently, the program has been implemented in 63 provinces and cities with 746,000 primary student participants.