The Vietnam Development Report 2014, titled "Skilling up Vietnam: Preparing the workforce for a modern market economy" and released by the World Bank November 29, stresses that the nature of work in a modern market economy will change and become more sophisticated.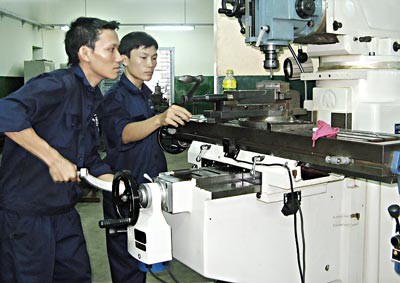 Students of a vocational school learn how to manipulate a machine (Photo: SGGP)
"Literacy and numeracy among Vietnam's adult workforce is widespread and more so than in other countries, including wealthier ones, but a more skilled workforce will be key to Vietnam's successful economic transition," said World Bank Country Director for Vietnam, Ms Victoria Kwakwa.
With the majority of Vietnam's adult workforce being able to read and write, the challenge now is to turn graduates from good readers into critical thinkers and problem-solvers who are well equipped to acquire technical skills in university, vocational training and throughout their working lives.
The report's analysis shows that economic modernization involves a shift in labor demand from today's predominantly manual and elementary jobs towards more skill-intensive non-manual jobs, from jobs that largely involve routine tasks to those with non-routine tasks. And these new types of jobs will require new skills.
WB experts advanced a three step plan for a holistic skills strategy for Vietnam. Step one is to promote school readiness through early childhood development; step two is to build the cognitive and behavioral foundation in general education and step three is to build job-relevant technical skills through a more connected system between employers, students and universities, and vocational schools.