Three Vietnamese female scientists received UNESCO-L'Oreal National Fellowships for Women in Science October 19 in Hanoi.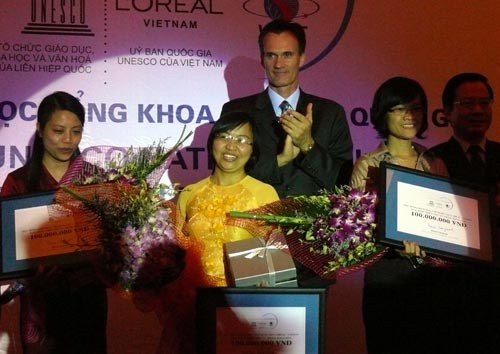 Ph.D. holders Le Thi Phuong Quynh (L), Nghiem Thi Ha Lien and Dang Thi Phuong Thao (R) (Photo: TTO)
The recipients – all Ph.D. holders – were Dang Thi Phuong Thao, a biotechnology instructor at the HCM City University of Natural Sciences; Nghiem Thi Ha Lien, a researcher at the country's Institute of Physics; and Le Thi Phuong Quynh of the Chemical Institute of Natural Compounds.
The fellowships, worth VND100 million (over US$5,000) each, are intended to help the female researchers develop and pursue research projects.
With support from UNESCO, L'Oreal Vietnam launched the national "For Women in Science" fellowship last October as part of the "UNESCO-L'Oreal Awards" project, to support young Vietnamese female scientists.
Launched in 1998, the global L'Oreal Corporation awards honor contributions of women in science. Over the past 10 years, the program has awarded 52 female scientists from 35 countries and territories.