Students of Nguyen Binh Khiem Primary School in Ho Chi Minh City won in the junior category of the International Robotics Competition which ended on November 23 in the Philippines.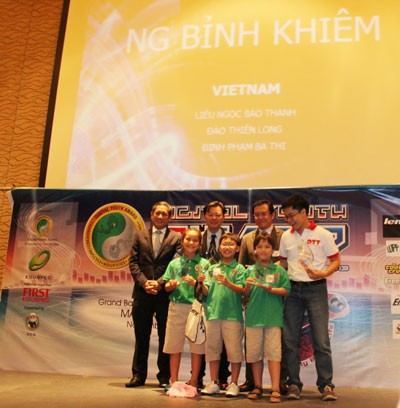 Students of Nguyen Binh Khiem Primary School in HCMC win the Int'l Robotics Competition in the Philippines
Lieu Ngoc Bao Thanh, Dao Thien Long and Dinh Pham Ba Thi triumphed over other 'weighty competitors' from Malaysia and the Philippines to gain the highest title.

The International Robotics Competition is held annually for students from age six to 13. This year's contest attracted 70 teams from five countries, namely Indonesia, Malaysia, Singapore, Vietnam and the host country Philippines.

There were 24 teams in the junior and senior category at the Robotics Competition.

Malaysia was the champion in the senior category for high school students.