KinderWorld Group has announced that the upcoming Asia Pacific Mathematical Olympiad for Primary Schools (APMOPS 2010) will be co-hosted in Vietnam by KinderWorld Group and Hwa Chong Institution of Singapore.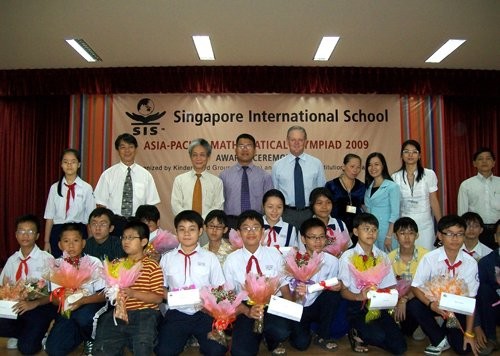 Winners of APMOPS 2009
This is the second consecutive year that the APMOPS will be held in Vietnam.
There will be two rounds to the competition with the first held on April 24 at KinderWorld's Singapore International School campuses in Hanoi, Hue, Binh Duong, and Ho Chi Minh City. Around 485 primary school-aged children are set to compete.
The APMOPS is a prestigious event for young students from countries in the Asia-Pacific region including Australia, India, Singapore, China, New Zealand and Vietnam to interact and compete with top math prodigies.
Participants who are among the top qualifiers will then be invited by Hwa Chong Institution to participate in the Invitation Round and Prize Presentation Ceremony on May 29 in Singapore.
KinderWorld Group and Hwa Chong Institution will provide round-trip airfare and stipends for 10 first-round winners to participate in the second round in Singapore.