SGGP reporters unravelled a training school on 76 Su Van Hanh Street in District 10 of Ho Chi Minh City, imparting international computer programming courses without a license and charging students  from US$1,600 to US$2,228 for the courses.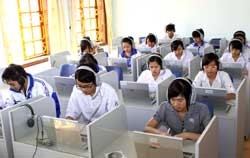 Students learn computer at a computer teaching center. (File photo)
The training school went by the name Tri Viet-Aptech Computer Programming International School. 
More than 50 students flocked to Tri Viet Company, a computer education school, to demand an explanation as to why they had not received any certificate even one year after graduation.
Le Van Thai, father of one of the students, said he had paid a total US$2,228 for the programmer course in 2007-2009. However, till now his son has not received a certificate for the course nor a mark sheet from India as the school had promised.
Le Thanh Lam, a student of the school, said the school has not done as they promised when students started the course.
Lam told SGGP reporters that a representative of the school had said that if the students wanted a Bachelor of Information Technology certification, they could continue studying in the international school in Vietnam or in foreign countries like Australia, England or America for one or one and a half years. The students however were unaware that the school had no license to run the course.
Illegal training
According to Sai Gon Giai Phong reporters, Tri Viet-Aptech Computer Programming International Training School has no license for operating from relevant authorities.
Meanwhile, Ho Chi Minh City Department of Labour, Invalids and Social Welfare (the concerned department) confirmed that it had not granted any international education licence and permission to grant HDSE certification from India to the school.
A representative of the department said that they had only granted a license to the school for short-term training courses in informatics. The school was not granted a license to run international courses.
The school is not allowed to grant a HDSE certificate (High Diploma in Software Engineering) to its students.
The school not just lured more students to register for the courses but also swindled relevant authorities by running the courses.
According to Hoang Trong Anh, deputy director of the Tri Viet Company, till now 26 students have graduated from the school and the school has sent a list of graduated students to Aptech India for certification. However, Aptech has not yet replied or sent any information to the school. The school is currently training 70 students for the 2008-2010 and 2009-2011 courses.