More than half a million students take part in the first session of the annual university entrance exam today. The session, A Group, includes math, physics and chemistry.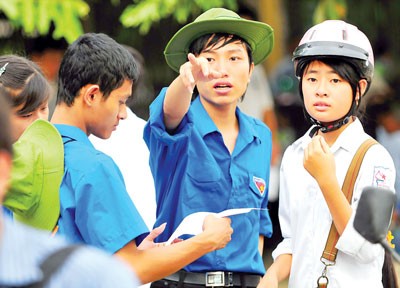 Volunteer-students instruct an examinee the way to her exam council in Hanoi, on July 3, 2009 (Photo: SGGP)
In Vietnamese society, the exam is considered the most important during 12 years of schooling, as good results can pave the way for a brighter future.
Several days before the exam, students in Hanoi came to Van Mieu (Literature Temple) to pray, burn incense or touch turtle heads, which prop up doctoral memorial steles, for luck.
This year's exams will add to Ho Chi Minh City's congestion, with a number of underground works already plaguing traffic.
Yesterday, at the Cat Lai junction, Binh Thai, Thu Duc crossroads, which lead to the city, traffic jams were severe for many hours.
Officials are concerned that today's traffic congestion will affect the exams.
Traffic jams also occurred in Hanoi and Can Tho City, where a large number of universities in the north and Mekong Delta are located, leading to a numerous students flocking to the cities.
As well as asking traffic police to help control travel during the exam, the Ministry of Education and Training has required exam councils nationwide to establish task groups for the A/H1N1 flu.
According to the ministry, many cities have formed a quarantine area in every exam council.
This year Ho Chi Minh City welcomed many foreign students who wanted to study at the city's University of Social Sciences and Culture.
The exams for foreign students were held on July 1.
Related Story: