Prime Minister Nguyen Tan Dung recently has gave out instructions for making cheap loans available to students. At the same time, the Ministry of Education and Training began planning an increase in tuition fees at all levels of formal schooling. How these changes will affect the quality of education is addressed by Dr. Le Vinh Danh, dean of Ton Duc Thang University in Ho Chi Minh City.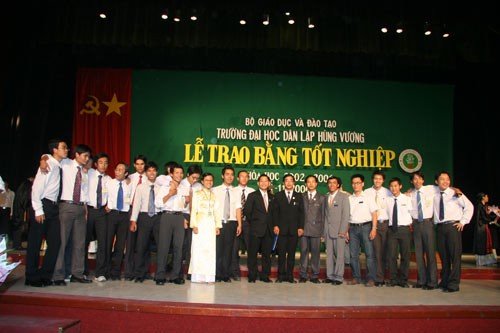 Hung Vuong University's Students at a graduate ceremony
First off, Dr. Danh believes student loans are the best way for the children of poor families to achieve decent results.

From his experience of studying in America, he thinks the government should pay the bank interest for the first six years so that the borrowers are not weighed down by financial pressures that might wreak havoc on their studies.

"Creating the best conditions for students will raise the quality of education," he says.

To get the public on board with a hike in tuition fees, Dr. Danh says the government should immediately classify 354 universities and colleges into four levels, each level with a fee that suits the student's financial situation.

In this way, parents will happily pay for the quality of education they want for their children.

It will also motivate the universities and colleges to improve their act.

For the universities that teach administration, medicine, education, basic sciences and law, the government should cover the entire cost of tuition in order to attract the most brilliant students.

Last, the universities should let the public know how they intend to use the extra money from higher fees to improve the quality of their teaching so that parents will not have anything to grumble about when they reach deep into their pockets.