On the beginning of the 2010-2011 school year, which started September 4, Education and Training Minister Pham Vu Luan had a talk with Sai Gon Giai Phong about some major issues, including teachers' salary and allowance, and the new tuition fee at public high schools.
Reporter: Will there be measures to improve the life of teachers in the new school year?  
Mr. Luan: The teachers' salary issue is a part of the overall salary policy of the State. We have worked with agencies concerned to improve the life of teachers, especially those in remote areas, and possible improvements are being considered. Meanwhile, measures to improve allowance for teachers have been agreed by relevant agencies and thus may be applied soon.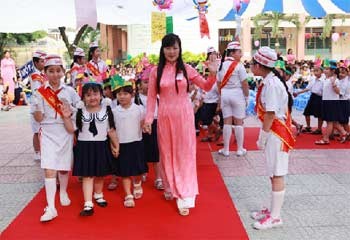 A view of the new school year opening ceremony at the Phan Chu Trinh Primary School in HCM City (Photo: SGGP) 
What will the ministry do to eliminate the uncontrolled organization of extra-classes outside school time for students? What issues do you think will be resolved completely within your term?
Any negative phenomenon in the field of education must be stopped. The ministry will work with schools and local departments of education and training to determine what problems to resolve first in order to build up a healthy educational environment.   
The uncontrolled organization of extra-classes after school has so far occurred in urban areas only. In many rural areas, extra-classes have also been organized but on the free-of-charge basis. I personally knew that many rural teachers not only offered free extra classes to students but also gave other supports to students of poor families.
In my term, I will continue applying the measures that have proved their effectiveness and will make changes to works that have yet to prove effective.
The new tuition fee system will be applied this school year. Will it put any pressures on students and their families?
Based on the general tuition fee system approved by the Government, provinces and cities will build their own policy on tuition fee.   
The Government has carefully considered the new tuition fee system to ensure students, especially those in areas with disadvantageous conditions, will not bear any pressure. In general, the new tuition fee at public high schools will not exceed 5 percent of the average household income.
In areas with extremely disadvantageous conditions, students will be offered free education. In addition, they will also be given State subsidies to buy textbooks and studying implements.
Some major educational projects will be implemented in this school year. They include the per-school education universalization project, which costs 14.6 trillion (US$749 million), and the project for new foreign language training program, which costs 9.74 trillion. Do you have any concerns about such giant projects?   
The National Assembly, the Government, and the ministry have carefully considered these projects. My concern is that the ministry must closely cooperate with other ministries and local authorities to ensure these projects are implemented and controlled effectively.
Many schools, especially those in big cities, such as Hanoi and Ho Chi Minh City, have imposed unregulated charges on students. What measures will the ministry take to stop this situation?
The public opinion has long opposed to this situation, but in fact, many parents still readily pay such charges to schools where their children are studying. I hope parents should take right actions. For example, the situation will not exist any longer if no parents agree to pay such charges. 
To stop this practice, it is necessary to build a common action of the entire society, in which there are actions from the ministry, competent agencies, parents, and mass media.