Department of Ho Chi Minh City Education and Training yesterday held a closing ceremony of the festival "40 year development of Education in Ho Chi Minh City" at Reunification Hall in the city on March 22.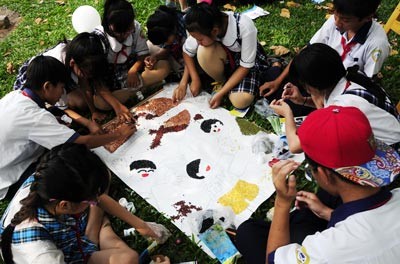 Educational festival 2015 in Ho Chi Minh City. (Photo:SGGP)
Ten of thousands of people visited the three day festival where nearly 500 booths of enterprises, publishing houses, angencies introduced modern educational models, solutions for refreshing teaching, studying methods and educational management.

Moreover, the festival became a useful playground to share experiences between teachers, educational businesses  with students.

On the occasion, the Ho Chi Minh City's Department of  Education and Training honored individuals, groups with outstanding achievements and active contributions in city's educational development.

On the same day, the organizational board also held a solemn ceremony to praise students with their excellent achievements in study and winners of international science olympiads.