With only three months left before the university entrance exam of 2006, the tutoring centers are running at full speed. After school time is over, in front of high schools appear many parents taking their children to have a quick snack before sending them to a center for additional classes. It seems that they do not care if their children can digest all the knowledge stuffed into their head for the whole day.
Centers' new strategies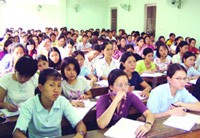 A tutoring classroom at a center
The slogan "education is borderless – assiduousness is destination" written in the registrar office of a center in the corner of Dinh Tien Hoang and Dien Bien Phu, district 1, HCMC seems to boost students' moral of study to the highest.
The administrative girl boasted that the center gives away studying materials for free. In addition, the teachers update their information on the exam from newspapers (sic).
Just then, a student ran out of the classroom, asking her to lend his teacher the newspaper with the information on the main knowledge focus supposed to be checked in the exams.
About 100 meter away is DHNL center, though opening their tutoring classes on February 9, 2006, still attracting more students by letting them study for a trial period of two days to see if they can "keep pace with others".
Among hundreds of tutoring centers for the university entrance exams in HCMC, the one of HCMC Teachers' University has the most students in their tens of branches located in many districts and even in neighboring provinces.
This year, such boasts as "pass guaranteed" are not publicly advertised, the centers attract students with a new strategy of letting them have a trial period with the class and the teacher.
The tuition for three subjects in the exams varies from VND1 to VND1.8 million for four months, depending on the brand name of the center. Some center charges students with VND500,000 a month for three subjects. The teacher is paid VND60,000 to VND90,000 a class hour.
Some famous teachers do not get paid for their work but they share with the center on the ratio of 6:4. The teacher gets the lion's share as his or her name can help attract more students to the center.
However, unlike what happened in the past years, there is not much advertisement for the centers in the streets and newspapers. The number of students at the centers is recorded lower than that of last year. An employee of the Teacher's University center confirmed this with a complaint that the drop in student number affects staff's income.
Students' new choices
In recent years, publishers and companies have entered the lucrative market with beautifully printed tutoring books. In addition to hundreds of titles available everywhere, some publishers also produce tutoring CD-ROM, helping students review their lessons with computers.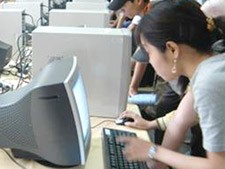 Students can study online. (Photo: T.C)
Another choice for students is studying online, with many websites providing knowledge on their chosen subjects. On the website of Ministry of Education and Training www.edu.net.vn lies the column "Tests and Answers for the University Exams".
The first online tutoring center in Viet Nam, Truong Thi, is launched by VASC Company under the Post and Telecoms Corporation.
Students can buy Truong Thi Educard and log on to have online lessons at the cost of VND3,500 each, and multiple choice test, test bank, or knowledge library at VND100 one access time. Admission and vocational information is provided free.
CD and software for the university entrance exams also help student much. CD and online study have the advantage of interaction and quick answer to check. For example, with the math multiple choice software, students can choose a test or a topic to test.
Each question has five choices with an average of 1.5 minutes to answer. Students can select one question to work on or view the answer. Also, such software as Mathtool can help students draw the graph for one or many functions at the same time, calculate the limitation of an algebraic expression or have quick answers on linear, quadratic and cubic equations or general equation fx=0.
Tran Van Thanh, who failed last year's exam, decides to study online and with CD instead of going to a center. This cheaper means of study also saves him much traveling time. He can insert a CD on his computer or come to a nearby high-speed internet shop for his study.
The new testing methods require a change in studying and teaching, said Mr. Nguyen Van Phuc, Director of the Center under Vietnam National University, HCM City. This year's tests are condensed and limited to the highschool curriculum but they are rather technical and specialized.
Studying mathematics, for example, in addition to a required good memory on the formulas, students must know how to manipulate them into specific questions.
The university entrance exam is a difficult race, which means that the demand for tutoring is real.