Two years ago, the Ministry of Education and Training had launched a swimming teaching project for primary schools all over the country after statistics showed that drowning was among the third leading causes of deaths caused by unintentional injury.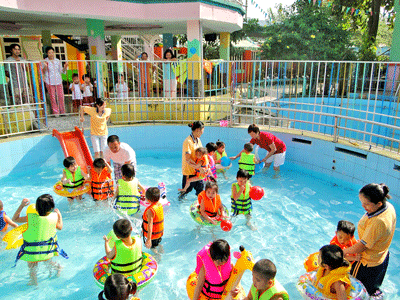 Primary school children learning to swim (Photo: SGGP)
The Government had approved a sports complex project by 2020 for mandatory swimming lessons in kindergartens and secondary schools nationwide, and in particular in the Mekong Delta and central coastal provinces.
In February 2010, the Ministry of Education and Training asked its departments in the country to introduce swimming lessons in the curriculum in primary schools for the period 2010-2015. Fourth graders would be the main focus and third and fifth graders would also be welcome to take swimming lessons.
Soon after the project was launched, the percentage of schools implementing it were 30 percent in 2011, but after a short while, the project seemed to frizzle out for several reasons such as shortage of facilities, personnel and funds.
Drowning is cause of death for one among every fourth child with 6,000 children drowning in Vietnam every year, according to a report of the Department for Childcare and Protection under the Ministry of Labor, Invalids and Social Affairs.
Some 200 children have drowned nationwide since the beginning of this year. In 2010, the numbers of drowned children were about 2,800, but last year the figure increased to nearly 3,500.  Specifically, only 35 percent children and around 10 percent of teenagers in the Mekong delta and the northern province of Ha Nam can swim, even though the Mekong Delta has an abundance of water bodies.
Primary schools in the City complain that they are facing a lot of difficulties in teaching swimming, due to lack of swimming pools, teaching staff, extra expenses and no extra-curricula activity having been introduced in the curriculum. In HCMC, there are 1,750 schools from pre-schools to high schools, but only 30 schools have swimming pools, most of them being pre-schools.
To solve this problem, the education sector needs to coordinate with other sectors, localities and society. Nguyen Thi Kim An, headmaster of Tran Binh Trong Primary School in District 5 said the school does not have enough funds and resources to pick up students from school to take to rented swimming pools and hire gym teachers. 
Nguyen Van Troi Primary School in District 4 in HCMC is one of the few primary schools to have a swimming pool. Pham Thuy Ha, the school's headmaster, said that the school is struggling to find support for teaching students to swim, adding that gym centers in the district should give assistance to the school or else it is impossible to carry out the project for a long time.
Agreeing with her, Le Ngoc Diep, head of the Primary Division of the department, said that to implement the project effectively and for a long time, it needs support of sport centers and swimming clubs in the City as well as from the local government.