The Ministry of Education and Training has announced it will begin monitoring domestic colleges and universities to ensure they are adhering to their outlined pledges and maintaining quality standards.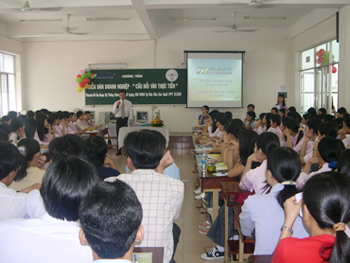 Students attend class at Ton Duc Thang University in HCMC. In the future, schools found operating below standard or in violation of their outlined pledges could be closed (Photo: tut.edu.vn)
Schools found failing to meet requirements will first be banned from recruiting new students and directed to address problems. Further violations could result in closure of the institution.
The announcement was made by head of the Higher Education Department Tran Thi Ha at a March 4 press conference held by the ministry to announce the Prime Minister's instructions for revamping university education management for the 2010-2012 period.
According to the directive, PM Nguyen Tan Dung has tasked the ministry with 12 assignments to address weaknesses and improve Vietnam's higher education system.
The PM ordered the ministry not only to investigate whether universities and colleges were staying true to their promises of offering quality education, but also to expedite the improvement of schools' infrastructure, teachers, and curricula.
In addition, the ministry should implement procedures to strictly deal with schools found for three consecutive years to be in violation of their initial pledges.
Ms. Ha said that before a school is allowed to offer a course, the ministry will now assess the class first for content and quality and ensure that the school's infrastructure can physically accommodate the courses' outlined curriculum.
The PM also asked the ministry to strengthen decentralized administration of schools as well as encourage such institutions' independence and self-responsibility.
The ministry will March 5 hold a national conference on university management renovation.