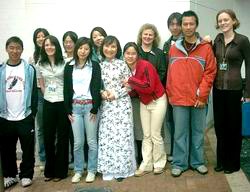 Vietnamese students in the UK
The festival of students studying abroad themed "What will we do for our country?" kicked off yesterday at the Vietnam National University in Ha Noi.
This is an opportunity for students to exchange experience in studying abroad and study employers' requirements.
Thousands of students from schools in Ha Noi, students studying abroad and representatives of many companies attended the event.
In addition, the theme of the festival did a great job of drawing the attention of a large number of students. A former student in the UK said that all students studying abroad hope to return home with their knowledge to serve the country.
Many questions were raised at the Q&A session, such as "Why are Viet Nam's human resources usually said to be impractical?" and "Are employers giving opportunities to new graduates?".
Participants also asked about recent graduates' chance to work for goverment's organs or state-owned companies.