One hundred and twenty-five winners of "Hoa Trang Nguyen" prize, which honours students with outstanding study records, become special guests of State President Nguyen Minh Triet in Hanoi on August 22.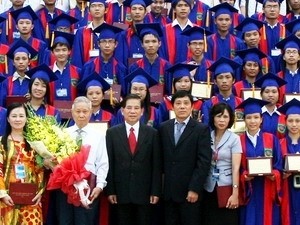 State President and excellent students (Photo: VietnamPlus)
They included winners of international Olympiads, excellent students of national contests, and those who topped entrance exams to universities and colleges nationwide.
President Triet showed his delight with the excellent records these special guests have obtained and praised them for overcoming difficulties they met in life to bring fame to their families and the nation as well.
On the occasion, he expressed thanks to teachers and educators for making valuable contributions to training talents for the nation.
Dinh Minh Anh, who won a gold medal at the International Physics Olympiad, Nguyen Thi Linh Chi, who bagged the top prize at the national literature competition and Tang Van Binh, who topped the entrance exam to the Hanoi Foreign Trade University, vowed, on behalf of others, to become useful citizens to the country.
These students received their prizes earlier the same day at a ceremony co-organised by the Party Central Committee's Education and Information Commission and the Tan Tao Group.