HA NOI (VNS)— Local government agencies throughout the country have warned parents to pay close attention to the quality of toys they purchase to help prevent children from playing with dangerous things.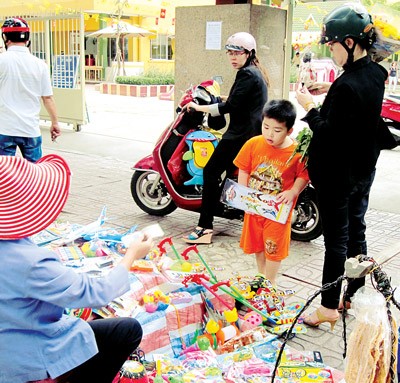 Local government agencies throughout the country have warned parents to pay close attention to the quality of toys they purchase to help prevent children from playing with dangerous things (Photo: SGGP)
The move follows the incident in which nearly 40 students from Chu Van An Primary School in Central Highland Dak Lak Province were admitted to Dak Song General Hospital after a toy they were handling unexpectedly exploded on January 17.
The province police has announced that the white powder found in the grenade-shaped toy has been identified as sodium bicarbonate (NaHCO3), while the pink powder was citric acid (C6H8O7), both permitted substances, according to sample tests done on six other toys seized from Chu Van An primary school.
However, when the toy is hit with hands or stamped on, the two powders react with each other and explode like a firecracker. The two chemicals can cause skin and eye allergies.
If a toy does not have a trademark or does not meet quality norms, parents should not buy it, the Science and Technology Ministry's chief inspector, Tran Minh Dung, told Lao Dong (Labour) newspaper.
"Many children's toys currently sold in the market, which are mostly made in China and smuggled into Viet Nam, could do harm to children," Dung said.
Plastic toys such as air pumped balls or toys shaped like ducks and watermelons, selling at VND7,000 – 25,000 (US$0.3 -1.1) each, were found to contain chemicals, such as phthalates at 300-400 times higher than the allowed limits, after several random samples of plastic toys were checked, according to Director Tran Van Xiem of the southern branch of the Consumer Goods Quality Management Department under the Ministry of Science and Technology.
"Phthalates, which are chemicals easily released into the environment, could cause people to suffer from cancer and childlessness, and affect children's brains," Xiem said, adding that many parents buy these toys, not knowing of the health consequences caused by unsafe toys.
Because of profits, several shops in HCM City concealed and later sold unsafe and violent toys, including plastic toy guns, swords and grenades, which have been banned from being sold in the market for years, according to the staff, speaking on condition of anonymity at the city Market Management Sub-department.
Therefore, the Science and Technology Ministry asked local authorities nationwide to strengthen inspections of such products, and seize and destroy all products having no documents proving their origins and made of poor quality materials.
Accordingly, the HCM City Market Watch has inspected and uncovered 13 illegal businesses selling unsafe and violent children's toys since the beginning of the year. Also, more than 2,000 plastic toy guns, swords and grenades were seized in HCM City.
Additionally, the Ha Noi Market Watch, in co-operation with the municipal police, seized a cargo of 800 plastic toy guns, including cold pistols, air guns and shotguns loaded with plastic bullets, in the city's Gia Lam District on January 18.
Warning on firecrackers
Departments of Education and Training and educational establishments nationwide were asked to raise students' awareness about regulations restricting firecracker and explosives before the Tet holiday.
Students must be educated about not trading, producing, transporting, storing or using firecrackers and explosives, as well as violent toys is the purpose of the campaign.
The move follows violations by students of firecrackers and explosives regulations in recent days, according to the Ministry of Education and Training.
Also, four students were killed and one seriously injured when a fire broke out following an explosion in HCM City's District 10 on January 11. One of the victims had used chemicals, including sulphur, to make firecrackers for use during the Tet holiday when they exploded, which caused the fire, according to officials.