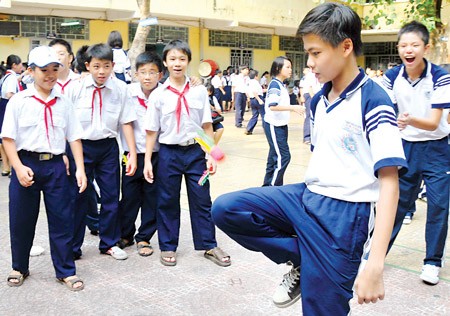 Pupils of Kim Dong Junior High School in District 5 play sport in the school yard. Schools should build a friendly learning environment for the new academic year, according to the ministry (Photo: SGGP)
The Ministry of Education and Trainning August 25 called schools to prevent violence in educational facilities for the new academic year 2010-2011.
In its guideline to educational institutes, the ministry instructed schools to continue the program "Building a friendly schools to students". Schools must take measures to curb violence inside and outside schools as well as increase curriculums on living skills, social activities, sports, culture and traditions, and medical knowledge.
As young people witnessed scenes of violence or clashes within the institutions and it reached to alarming rate last year, schools have to talk about the issue in the beginning of the school year.
Students nationwide should sign the pledge against violence, the ministry said in the guideline.