The Ministry of Education and Training has asked all schools across the country to adhere to the regulations issued in the matter of school uniforms.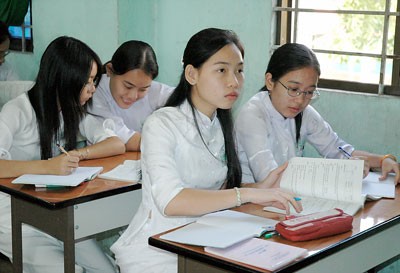 Girls in a senior high school wear the traditional Ao Dai to class (Photo: Cat Tuong)
Because some schools did not adhere to the regulations, there has been a public outcry in the new academic year.
The Ministry had issued orders that school uniforms must comply with instructions of the pedagogy council and parent association.
In addition, students must not be forced to wear uniforms everyday to school.
In rich districts, students should wear the uniform one day in a week, and the uniform design must be simple and affordable.
Schools must conform to standard designs and not change designs every year. But if they do, they must be in agreement with the parent association. The students will also not be compelled to wear uniforms on the first day of new school year.
The Ministry has asked the departments of education and training to report the status quo on school uniforms.
Students enrolling in three and four year programs at colleges or technical institutes will not be forced to wear the same uniform as faculty. Students should dress appropriately and elegantly.