Starting early next month, children at seven suburban schools in Ho Chi Minh City will have regular get-togethers with fellow students who consistently do well at school despite coming from hard-up families.

The idea is to show how much a disadvantaged student can achieve if the determination is there, and thereby encourage others.

Mainly involving lots of talk, feedback and interviews, the program is called "Bringing Good Examples to School" and is an initiative of the Connection Company (Cong ty Ket Noi).

A dozen young achievers at schools in districts 7, 9, Thu Duc, Cu Chi, Nha Be and Can Gio have been chosen for the program.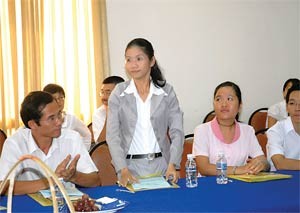 Organizers and young achievers at the preparatory meeting
At the get-togethers, their fellow students will quiz them about their lives, families and studies in the hope that their success in overcoming hardship will have a positive influence on others.

"Parents today worry a lot about their kids as they come into contact with both good and bad things every day via the media and the internet. They acquire not just good habits but bad ones too," said Mr. Nguyen Huu Ha, the Connection Company's director.

Many children from poor families have been successful in striving for a good education, Mr. Ha said.

Quite a few people still remember Binh Gam, who qualified for three universities including medical school, or Tran Hoang Ngan, who worked his way to a PhD by selling lottery tickets and ice cream and driving a pedicab to earn his keep.

"Even though these shining examples get reported in the newspapers, sooner or later most people forget about them. We hope that our direct exchanges will have a lasting impression on everyone involved," Mr. Ha said.

To help academic achievers who were not selected for the program, the Connection Company is teaming up with a publishing house to release a book about the program's dozen "shining examples" and distribute them free in the city's high schools.

For the chosen ones, the book will tell them more about other students who overcame adversity to score top marks.

Ha's company employs 15 highly qualified educators and psychologists who will be available throughout the program to advise students on love, friendship, health, problems with parents, sex education and career options.

"Bringing Good Examples to School" is scheduled to last until March 2008. Mr. Hoang Kieu, a successful Vietnamese expatriate who grew up poor, is supporting the program with his own money.

"My wish is to serve the country, ease the hardship of poor people, and give support and assistance to disadvantaged school children," Mr. Kieu said.