The Ministry of Education and Training will announce a proposed higher tuition fee for secondary and tertiary students this month to hear the community's opinion.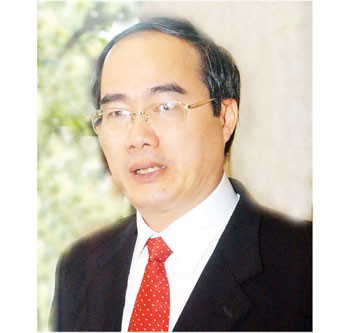 Deputy PM and Education Minister Nguyen Thien Nhan
Whatever the new fee is, it should suit the income of every family. In the opinion of some, the tuition fee plays an important part in improving the quality of education and thereby equipping young minds for their future careers.
Deputy Prime Minister and Minister of Education and Training Nguyen Thien Nhan thinks school fees are a very sensitive issue, not just here but in other countries too.
The ministry's policy makers must have a clear view of the situation at present, he says, and realize that the government funding for education is very limited and the public's contribution is very small because the per capita income is so low.
Somehow the policy setters must come up with a way to increase the number of school children and tertiary students yet improve the quality of education at the same time.
When President Ho Chi Minh declared Viet Nam's independence in 1945, he insisted that everyone from the age of eight should be able to read and write, and he hoped that everyone would get the chance to have a formal education.
Yet it wasn't until 50 years later that the first five years of school became free for every Vietnamese child.
The hope is to make secondary school free for all too, in fact by 2010, though achieving this could be tricky as there are far too few high schools in existence to educate every teenager. At the moment there are 6.2 million children at junior high and 3.1 million at senior high.
Needless to say, free public schooling places a heavy burden on any cash-strapped government.
In response to the public's concern about a higher tuition fee, Minister Nhan said that the current fee of VND200, 000 or so a month (US$15) was the lowest in the world.
Viet Nam needs highly skilled people to meet the demands of the modern era as the nation integrates into the global economy, yet primary school education swallows up more than half of the state expenditure on education whereas the universities only account for 16 per cent or so.
Mr. Nhan stressed that, to increase the availability of formal education, the public should contribute money and there must be more private universities and colleges.
Tuition fee hike in socialization context must abide by four following rules.
First, socialization must go along with increased total spending in education from state budget and community contributions. Currently, some provinces are cutting spending on education – it's contrary to governmental policy.
Badly enough, some provinces converted semi-state preschools into private to earn more; accordingly, some children had to leave schools early.
As a result, the second rule is that socialization of education must ensure the student number. Third, it contributes to training quality.
Last but not least, equality spreads among schoolers.
One more thing, state spending on education in wealthy provinces will be reduced to pour more in disadvantaged regions.
Tuition fee can not rely on residents' income because our country is poor and families' income is meager so their contribution towards education is not much. It's a vicious circle.
Mr. Nhan again affirmed that university enrolment payment must be high enough to guarantee high training quality so that graduates can undertake assigned work without being re-trained and furthermore they get well-paid jobs. With high salary, students can pay the loan which they have borrowed for their academic pursuits.
He also reminded people of the government's September 4 decision to provide loans for poor students.