RMIT International University Vietnam held a graduation ceremony at Saigon South Campus in Ho Chi Minh City Thursday.
The new graduates are the holders of Master Communication, Bachelor of Communication, Bachelor of Design, Master of Business, Master of Business Administration, Bachelor of Business, Bachelor of Commerce, and Diploma of Commerce.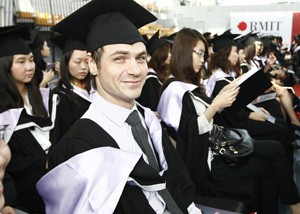 New RMIT Vietnam graduates at the graduation ceremony at Saigon South Campus in Ho Chi Minh City Nov. 24, 2011 (Photo: T.T)
RMIT Vietnam president Professor Merilyn Liddell said more than 3,600 students have graduated from the international university since Australia's RMIT University began operations in Vietnam in 2001.
"As of this week's graduation ceremonies here at Saigon South and in Hanoi, the total number of Vietnam campuses will have exceeded 3,600."
Another graduation ceremony will be held in Hanoi on Nov. 27, and Australian Ambassador Allaster Cox is scheduled to attend and deliver a speech that would underline contributions by RMIT University and its alumni into intensifying the relationship between Australia and Vietnam, according to RMIT Vietnam.
Professor Liddell told Thursday's graduation ceremony, "Over the past 10 years we have grown to have a student body of around 6,000, and campuses in both Ho Chi Minh City and Hanoi."
She added last year and this year RMIT Vietnam has seen its first graduates emerging from programs such as Professional Communication, and a revamped commerce program.
"Next year they will be joined by graduates in fields including Marketing, Economics and Finance, and computer and Electronic Engineering at Masters' level."
Professor Margaret Gardner, Vice Chancellor and President, RMIT University in Melbourne, said to the new graduates that she was proud of what RMIT Vietnam students have worked to achieve.
Vietnamese student Cao Le Dieu Vinh was honored at the ceremony to deliver a speech as the winner of the 2011 President's Award.
"I've been inspired by RMIT's belief in and spirit for personal development. We've been provided with great support systems including Learning Skill Unit, the Career Center and a world-class Recreation and Event complex."
"We were encouraged to have a desire to learn and seek improvements un different aspects of our lives, so that we are completely developed individuals though innovative studying skills, interpersonal skills, public speaking, teamwork and leadership, improved physical strength through sport and fitness programs," she said.