Intel Corporation has agreed to fund the creation of a specialised new high-tech computer laboratory for students signing on for RMIT International University Vietnam's new masters program in engineering.
Under an agreement between Intel and RMIT Vietnam, Intel will provide approximately VND4 billion (US$210,000) to develop a specialised laboratory for its Master of Engineering (Electronic & Computer Engineering) program at the Saigon South campus.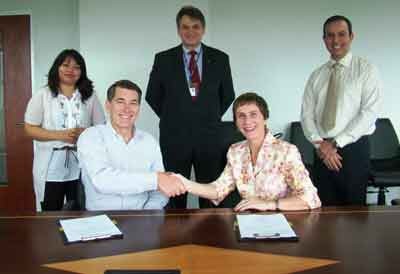 Intel Vietnam's general manager Rick Howarth (L) and RMIT Vietnam President Merilyn Liddell sign an agreement.(Photo: Coutersy of RMIT)
The electronic and computer engineering lab will have more than 30 workstations, a video conferencing system linked to RMIT's engineering lab in Melbourne, Australia, and other resources such as test and measurement equipment and micro development systems to help students boost their engineering skills.
The agreement extends Intel's previously announced commitment to provide 20 full scholarships in 2010 for RMIT Vietnam's new Master of Engineering program.
"We are delighted at the commitment that Intel has made to our engineering students to achieve an international standard Masters degree here in Vietnam," RMIT Vietnam President Professor Merilyn Liddell said at a contract signing ceremony.
"Along with current learning resources available at RMIT Vietnam, the lab sponsored by Intel will enhance students' practical experience as well as giving them opportunities to interact more regularly with academic staff and students at RMIT Melbourne in Australia."
At the event, RMIT also welcomed the new head of its Center of Technology, Professor Serge Demidenko, who will lead the new Master of Engineering program.
RMIT's Master of Engineering (Electronic and Computer Engineering) is being established to help Vietnam achieve its goal of having enough international standard engineering graduates to meet vital industry and infrastructure development needs in coming years. Students of the first intake will have the chance to apply for scholarships provided by not only Intel, but also RMIT Vietnam and the Australian Government.
Each scholarship will cover the total tuition fee, including pre-program English program from Advanced level (if required), all course materials, a small stipend for living expenses and the opportunity to do an exchange semester in RMIT University, Australia.
Upon graduation in 2013, those students who receive Intel scholarships will join the engineer workforce at Intel's largest Assembly and Test Factory based in Ho Chi Minh City, Vietnam. The scholarship winners will study at Saigon South campus, starting in October this year.
The application closing date is August 14.  Those interested in applying for the first intake have been advised to act quickly.

Related article:
Intel backs RMIT engineering program