People's Committee of the northern mountain province of Dien Bien has approved a project to teach Thai and Mong languages to primary school children during the academic year 2011-2015.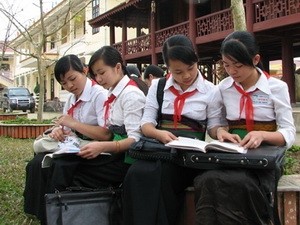 Thai students learning at school premise
The Department of Education and Training launched the project at an annual meeting on July 12. The project aims to preserve audio and written word of the Thai and Mong ethnic minorities. The project is estimated to cost VND8.3 billion (US$404,000).
Under the project, Thai primary school children will study Tay Dam language and ancient scripts while Mong students will study Mong Lenh-Mong Hoa languages and written words that will be edited by the Ministry of Education and Training.
The province intends to open 80 classes for teaching these two special languages to around 2,000 third graders. Educators decided to start teaching ethnic minority languages for third graders because these students speak Vietnamese fluently; thus, learning their mother tongue will not influence their studying of Vietnamese subjects.
Students will study these languages till the ninth grade.
Since Thai and Mong languages are in danger of extinction, the implementation of the project will revive them. Hence, in addition to good textbooks, there also must be teachers who have love for the languages and understanding of the culture.
Le Van Quy, head of Department of Education and Training at Dien Bien province, says the curriculum has been carefully edited for students in the northern mountain provinces.
Approx. 1,500 Thai teachers and 200 Mong teachers are ready to participate in the project.