Primary teachers were told not to bluster and slam sticks on the blackboard or on tables to threaten kids at schools in Ho Chi Minh City.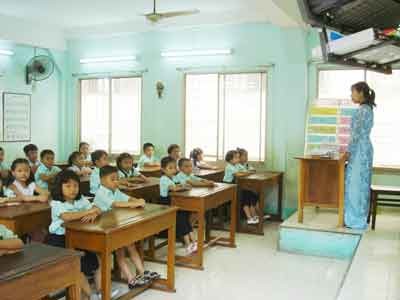 Elementary teachers  told not to threaten small schoolboys and girls but create friendly air to make them feel happy at schools  (Photo: Nha Tran)
The city's Department of Education and Training released its order to primary schools in the city. Under the instruction, teachers were forbidden to beat children.
Elementary pupils should be encouraged to develop their activeness and self-studying capacity, teachers need therefore listen to their voices and then give soft remarks to help small schoolboys and girls redo tasks.
Teachers were ordered not to impose harsh penalties on kids but rather to applaud their efforts and pay attention to small pupils' progress because kids at the age of six are clumsy in writing and studying.
Especially teachers of the first grade must welcome kids with smiles to create friendly air to small children as well as assist them to arrange books and notebooks tidy. Teachers should not complain that kids can't read well.