To become useful citizens and competent workers who contribute to the country's development, Vietnamese students must be studious and capable of combining theory and practice in their studies, President Nguyen Minh Triet said this morning at the start of the new academic year.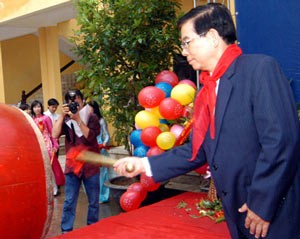 President Triet beats the school drum to signal the start of the new school  year

Addressing teachers and students at Le Quy Don High School in Ha Noi, President Triet said the last academic year had been a great turning point in reforming education in Viet Nam.

Many positive changes were made in the education system, teaching quality was considerably improved and examinations were conducted well, he said.

Mr. Triet called for speedier reform of the sector, and an end to chasing after superficial achievements and other negative phenomena, and urged teachers to be role models for their charges to emulate.

After the school's drum sounded to signal the start of the new academic year, President Triet greeted four hundred newly enrolled sixth graders and planted a small tree in the schoolyard to commemorate the occasion.