After the government launched the credit fund for students five years ago, 2.3 million poor students have benefitted from it, but unfortunately the fund amount is limited as compared to the borrowing need of millions of students.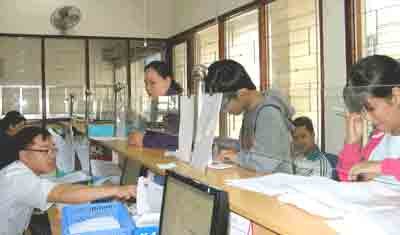 Students pay tuition fees at the University of Economics (Photo: SGGP)
In the last five years, 2.3 million students in the country have borrowed more than VND35,000 billion (US$1.7 billion) for their education and essential needs.
Staff members in universities and colleges willingly help the poor and disadvantaged students in all necessary paperwork.
Truong Minh Kiet, from the University of Economics in Ho Chi Minh City, said the school finishes paperwork for tens of thousands of students who need the money for tuition fees and living expenses.
In case the local government delays payment, students can ask for a loan from the school's Honor Fund.
As per a directive of the Prime Minister and the People's Committee of HCMC, no student should drop education due to lack of tuition fees. For this purpose, the Vietnam Bank for Social Policies has sent a dispatch to local district governments to keep a check on needy students who have passed their entrance exam in universities, colleges and vocational training centers and have need to borrow money.
Every student is eligible for a loan of maximum VND10 million (US$480) a year, or VND1 million a month, which basically only covers 50 percent of their monthly average expenses. For students in public schools, the amount of VND1million can easily cover the low tuition fee there but not in private universities.
Therefore, poor students have to both work and study, especially those living in expensive cities such as Hanoi and HCMC.
With increasing inflation, the amount can not help students cover living expenses and students from low-income families must work too hard to meet costs, which often affect their studies. Their wish of becoming a doctor, an engineer or an economist stops at times.
A number of students quit education due to high expenses. For this reason alone the government should increase the credit fund limit to reach more beneficiaries.