Many preschools in Ho Chi Minh City have implemented the Poly English Program for children of four and five years of age for the academic year 2012-2013, a program initiated by the Department of Education and Training and the Korean Poly Education Company.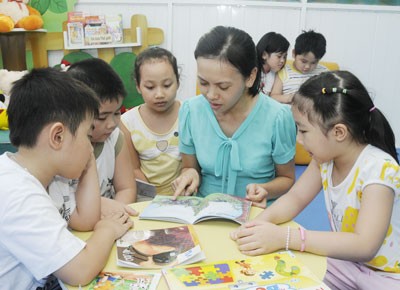 File photo: SGGP
To date more than 300 preschools have registered for the program with about 2,000 students. However, some concerns are being raised over the program.
Bui Thi Kim Loan, headmistress of Tuoi Tho 7 Preschool in District 3 said for years the school has cooperated with CEC Language Center to run two classes to teach the English language.
At the beginning, almost 80 percent of the school students registered for English class, but when the school implemented the Poly English Program, half the students quit the class because of the huge difference in tuition fee between this and normal English class.
For CEC program, fee is VND60,000 (US$2.8) per student per month for two periods a week, while for the Poly English Program the fee is VND320,000 ($15.3) a month for two periods a week for a four-year-old; and VND480,000 ($23) for a five-year-old student.  Tuition fee for Poly English Program is higher because teaching is undertaken by foreign teachers. Hence, doubts are being raised as to the continuity of the program.
In addition, preschools have different programs for parents to choose from. Tran Thi Thu Hang, leader of 19-5 Preschool said the school works with parents to decide whether to open class or not.
In other preschools, there is a choice of many English programs for parents. For instance, Son Ca 12 Preschool in Phu Nhuan District cooperated with Tan Van Language Teaching Center in Go Vap District to teach students from the Tiny Talk course book while some in Binh Thanh District are using Little Island course book provided by E-Study School.