No student must be forced to quit university or college because they cannot afford their keep or tuition fees, Prime Minister Nguyen Tan Dung said yesterday when handing out instructions for the student loan policy.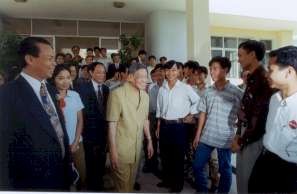 Beginning the new school year at Vietnam National University in Ha Noi
To help poor tertiary students continue their studies, especially those who have just passed this year's entrance examination, Mr. Dung emphasized that the relevant government departments must adopt and execute this policy to make it easier to get a student loan from a bank.

The task of planning the details of his loan policy he assigned to the Finance Minister.

The Education and Training Ministry will get the names of suitable loan candidates from the universities and colleges, and work with the banks that will be lending them money.

To give poor students time to borrow from the banks, schools must not demand their tuition fees in the first two months of a new academic year.

PM Dung added that provincial and city governments had to draw up plans for supporting poor students who might otherwise have to abandon their formal studies.

The Education and Training Minister was told to report on progress by the end of September.