Prime Minister Nguyen Tan Dung recently approved a project to assist 250,000 physically impaired workers to receive vocational training and be provided with suitable jobs by 2015, and called for people from all social levels to contribute towards this cause.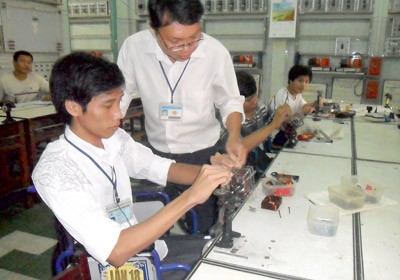 A teacher instructs students in a vocational training center (Photo: SGGP)
During the period of 2012-2020, the government will provide financial support of VND6 million (US$288) to each disabled person to take a vocational course. However, teaching people with disabilities is a challenge which requires great effort on the part of both teachers and learner to maintain focused and strong willed during the duration of the course.

Teacher Tran Hiep Hung from the Charitable Center of Training and Jobs for the Handicapped in Ho Chi Minh City said that teachers must maintain patient while instructing disabled students, as sometimes their awkwardness can lead to abnormal gestures or remarks from teachers which only hurt the sensibilities of the handicapped person.

For instance, Tran Van Nhan from the Mekong Delta province of Ben Tre is paralyzed on both legs and is training so that he can open a repair shop in his hometown.

Huynh Thi Ngoc Tuyen, head of the center, said that disabled people have less education and low awareness and along with their disabilities they have serious difficulties in assessing learning.

Hence instructors in the center have to hold the hands of the students to teach activities like repairing a machine and also have to understand the individual difficulty of each student and adopt suitable methodology. Moreover, instructors must help students to choose field of study, work, and constant monitor his or her personal health.

Nguyen Thi Chieu, head of Faculty for Job Consultation, said the center helps around 300 disabled people to find jobs in enterprises every year.

However, a few disabled students continue to work in enterprises that lay emphasis on productivity and growth and such working environment is not suitable for disabled people, who often voluntarily quit such jobs after a period of time.

Some enterprises refuse to recruit workers with disabilities as their slow performance upsets the productivity chain.

Tran Anh Tuan, deputy head of the Man Power and Labor Market Forecast Center in HCMC, said that 1 percent of the population in the city suffers from some form of disability. Annually, more than 15,000 handicapped people of working age seek jobs.

Every year, HCMC provides more than 280,000 jobs in fields such as hi-tech, electronics, accounting, garment and textile, leather and handicrafts, which are also the first preference of students at the Center.

As per Vietnamese law, enterprises must use 2 percent of workers with disabilities, which allows 5,000 handicapped people to get jobs each year. However, as yet the government has not implemented penalties on those enterprises that do not conform to this law. Neither is there any supervising body to check these enterprises, depriving more people with disabilities to miss out on suitable job opportunities.