The number of Vietnamese children attending international schools where foreigners teach has shot up dramatically compared to 12 months ago.
Asia Pacific College's students present an art performance
Among the relative latecomers to the scene, the Asia Pacific College has gained 800 more pupils and the American International School in District 1 has gone from having a few dozen to nearly 240 pupils at the start of this new school year.
The more established international schools are faring well too and have opened branches in the suburbs and drawn students from beyond Ho Chi Minh City.
There is a growing trend among Vietnamese parents to send their children to international school as they think their kids will get a better education and therefore have more opportunities in an outward-looking Viet Nam.
In their view, such schools have better facilities and up-to-date teaching methods to give their children an excellent education. Above all, they can learn English, which is most definitely the lingua franca of the world today, from native English-speaking teachers.
The Department of Education and Training classifies the international schools in Viet Nam into three kinds.
The first is mainly for the children of foreigners working in Viet Nam, uses an imported curriculum, and awards international diplomas. On average, only fifteen per cent of the pupils are Vietnamese.
Best known of these are the Ho Chi Minh International School in District 2, the British International School in Districts 1 and 2, Fosco International School in District 3, and Saigon Southern International School in District 7.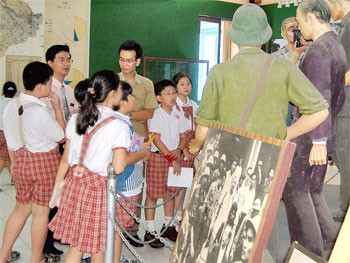 Children study history through extra-curriculum activities
The second group uses Vietnamese and foreign curricula together, and the pupils sit exams set by the Vietnamese education ministry, just like public school children throughout the country.
Only ten per cent of the pupils at these schools are foreigners. The vast majority are the kids of Vietnamese entrepreneurs and professionals.
The third kind is like a Vietnamese state school but the science subjects are taught in English.
The fees at the international schools range from US$1,620 to US$13,000 a year, which doesn't including spending on meals, uniforms, books and medical insurance.
There is a big question among parents as to whether their children are forgetting their country's history and culture by studying at these institutions, but some counter this by saying that their kids learn history through extracurricular activities.
A parent from North America living in District 3 says her child's composition about a trip to the Reunification Palace was full of details and displayed a thorough grasp of the historic events surrounding the place.