Vietnam's Professorship Council awarded the titles Professor and Associate Professor to over 400 teachers and lecturers from universities and institutes nationwide in Hanoi Saturday.
A total of 408 teachers received the titles at a ceremony at the Temple of Literature. Among those honored this year, 34 were granted the title of Professor and 374 got the Associate Professor title.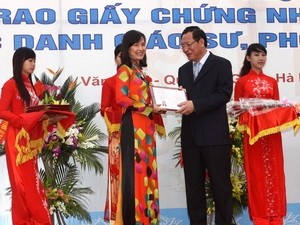 An unidentified teacher (L) receives a certificate at the ceremony in Hanoi Nov. 12, 2011
Among the 34 professors, Nguyen Quang Dieu, 37, is the youngest.
Meanwhile, mathematics lecturer Pham Hoang Hiep, 29, from Hanoi Teachers Training University is the youngest to receive the Associate Professor title.
Addressing the ceremony, the Professorship Council's general secretary Prof. Tran Van Nhung said his council had asked Education Minister Pham Vu Luan to grant the Professor title to a Vietnamese scientist who is working overseas and has been making substantial contributions to Vietnam's education.
Minister Luan congratulated the honored educators for their success and expressed his hope that they would contribute more to the country's education and scientific research.
This year's requirements for recognition were set higher to meet the current demands and comply with international standards, according to the Professorship Council.