Orange Telecom Company from France granted 22 scholarships worth US$60,000 and offered training to many talented Vietnamese students on November 2.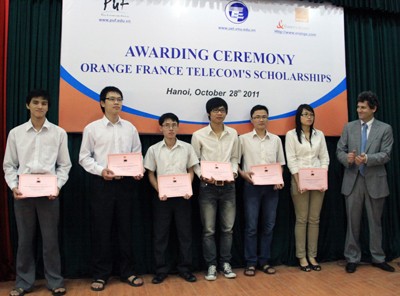 Scholarship awarding ceremony in Hanoi on October 28 (Photo: Cpv)
The French telecom giant offered 10 scholarships to outstanding students of Vietnam National University in Hanoi on October 28.

The two-year master scholarship was given to needy students along with six month on-the-job training courses, which will offer students an opportunity to gain more experience by working in the company's labs in France under leading experts.
Previously Orange gave away 11 scholarships and one on-the-job training course to the best students in Hanoi and Ho Chi Minh City.
Orange telecom grants scholarships with an aim to support Vietnamese IT talent under a Vietnam-France Government Cooperation Project run by the French University Centers in Vietnam.