It happens every year.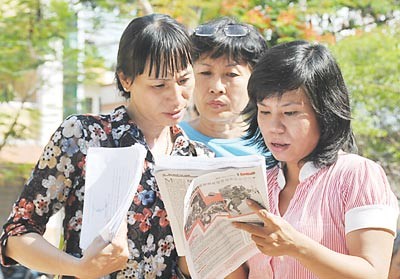 Parents are exchanging information about the senior high school entrance examination (Photo: SGGP)
Although the education sector promises every graduating junior high school student will be able to attend a state senior high school, thousands of children who sit the senior high school entrance examination fight each other to get a place in a public high school. Parents and students consider the tenth grade a very important stage that will facilitate entry into a famous university.
Many parents recently queued up to apply for a seat in the extra classes conducted by the Le Hong Phong School for the Gifted and the Ly Tu Trong center.
Tran Thi Kim Ngoc of Ho Chi Minh City's suburban Cu Chi district said she feels safer if her daughter, a good student, takes extra classes at the Ly Tu Trong center. This means the ninth grader must be taken from Cu Chi, 50km away from Ho Chi Minh City, to District 1 every day after her junior school is over at 5pm.
While good students are eager to get into schools for the gifted in order to ensure for themselves a place in a good university, fairly good and average counterparts target a seat in public high schools. Parents and kids go by the marks needed to get into each school last year before making their choices, and opt to take extra classes to ensure they make the grade.
The Department of Education and Training has reported around 77,749 junior high students will sit the senior high entrance examination this year. However, public schools can only receive around 56,498 graduates, a little over 72%, which is a decrease of 10% compared to the previous year.
Those who fail at these two options, have other choices: private schools and vocational schools. However, few students and even fewer parents look kindly on these institutions as they must pay more for private facilities and have less opportunity to access higher education. Vocational schools have always been looked down up as academically inferior institutions.
Experts say that this situation will be repeated and reinforced if authorities do not address the issue urgently, and act to ensure the system is more equitable and affords more opportunities to all students.