The Ministry of Education and Training has allowed Luong The Vinh and Quang Binh universities to lower their admission scores for high school leavers wanting to study agriculture, forestry or pisciculture.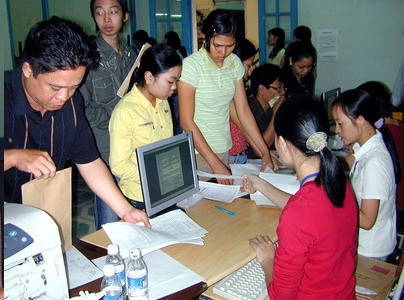 The new students at Thang Long University's registration office
They bring the total to nine universities permitted to lower their admission scores and give the many students who had just failed to make the cut a second chance.
 
The other seven are Tay Nguyen, Tay Bac, Hung Vuong, Hai Phong, Nha Trang, Thai Nguyen and Hong Duc. 
 
The successful applicants for the second intake will be announced by September 15. Those universities that still have vacant places in their faculties will do another round of selection before the end of September.