New Minister of Education and Training Phung Xuan Nha yesterday said that after being appointed as new minister of education, he had received of thousands of SMS messages making suggestions for the development of the education and training sector.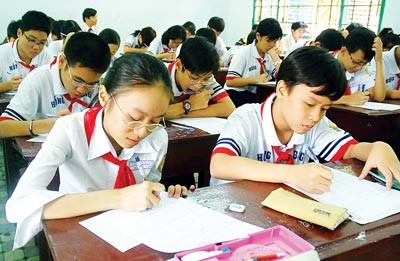 Students of Hong Bang Secondary School seat an English exam in District 5, HCMC (Photo: SGGP)
He was speaking at his first meeting with the Party Civil Affairs Committee and heads of agencies under the ministry.
 
According to Minister Nha, education and training reform and development require the attention of not only the ministry but also other ministries and the entire society.
 
At the event, General Secretary of the State Council for Professor Title Professor Tran Van Nhung, proposed some measures to implement the Party's Resolution 29 on basic and comprehensive reform of Vietnam's education.
 
He proposed the ministry to promote every local and foreign resource and get experiences domestically and abroad to train generations of Vietnamese with the personality of Vietnamese. They would be capable of competing in human resources from other nations fairly, healthily and efficiently in the integration phase which has brought not only advantages but also challenges.
 
Young generations of Vietnam must be proficient in two strategic tools of the current age including information technology and English, he said.