Schools in Ho Chi Minh City are raising awareness in children of their past glorious history, culture and traditions of Vietnam by organizing various interactive activities such as trips to historical monuments and museums.
Learning from history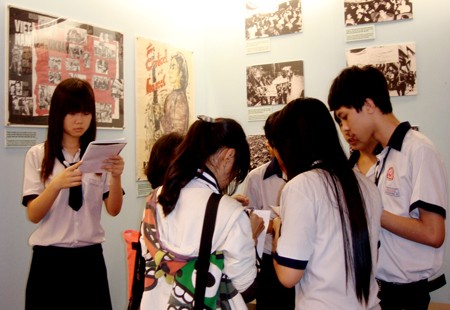 Students of Nhan Van Junior High in Tan Phu District visiting the War Remnants Museum (Photo: SGGP)
Last week a group of students from District 3 visited some museums and monuments in the city, such as the secret weapons chamber of commandoes of the General Offensive in the spring of 1968, Tradition House in District 3 and the War Remnants Museum.
Later they penned their thoughts and viewpoints at the Ho Chi Minh Museum, where Uncle Ho had initially begun his journey in search of salvation for his country.
According to Le Cao Dat, director of the Cultural Center in District 3, this is one way to educate young people on the history and traditions of the land.  Dat informed that the best selected essays would be awarded at the end of the summer.
The Culture and Information center in District 6 has created some activities for students that will motivate and arouse their patriotism and national pride as they learn more about their historical leaders from visits to ancient monuments and museums.
Interactive method of learning
During the past few years, there have been many useful interactive activities relating to historic and cultural monuments to enlighten and educate children and adolescents on the high traditional values of the country.
A reading competition, "Uncle Ho lives in the hearts of Vietnamese Children", was held in the Culture and Information center in district 1, organized jointly with Tre Publishing House. This competition responds to the movement "Learning and following the examples of Ho Chi Minh" and has attracted more than 1,100 students and teachers from 34 local schools. As Ms. Doan Thi Thuy Tien, deputy manager at the center said, reading is the best out-of-school activity for students to learn Uncle Ho's teachings.
Other activities include, "Visits to Historic and Cultural Monuments" and competitions like "Amateur Presenter of Historic and Cultural Monuments in the District 5 Area", "Learning about Historic and Cultural Monuments in Tan Phu District" and "Exploring Historic and Cultural Monuments in HCMC".