The Ministry of Education and Training said that it will investigate private schools, focusing on renovating financial management in 2010-2011 school year.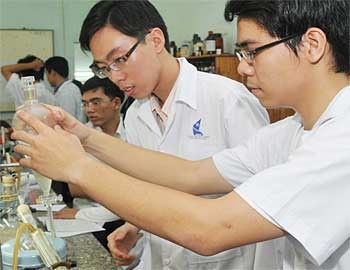 Students conducting chemistry experiments in the lab at the Ho Chi Minh City University of Natural Sciences (Photo: SGGP)
The ministry also announced State budget spending for education and training this year is VND104.775 trillion (US$5,2 trillion). Among the amount of money, spending on regular expenses including salary, insurance is estimated at VND84.500 trillion ($4,2 trillion) and non-salary expenses VND20.275 trillion ($1 trillion).
In 2009, state budget for education and training was VND94.635 trillion ($4.7 trillion).
There are no official statistics about the number of students from other provinces at private schools in HCM City. According to Saigon Tiep Thi, the number could be as high as tens of thousands. An estimated 50-60 percent of total private school students come from other provinces, but the percentage is as high as 80 percent in some schools.
Besides good material facilities, private schools also attract students by boastring of the high percentages of students passing high school finals and university entrance exams. They also talk up the teaching staff, who, according to advertisements, were once 'senior teachers at state-owned schools', or 'graduated university in France', and are now 'university lecturers'.