One year ago, public kindergartens in HCM City began accepting children aged six to 18 months as requested by local authorities in a pilot programme that is expected to be expanded to all kindergartens by 2020.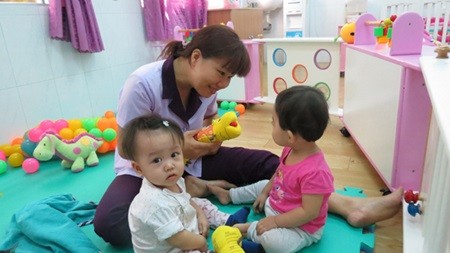 Teacher Tran Thi My Thuy from Rang Dong Kindergarten in HCM City plays with children who are now allowed to be enrolled in public kindergartens that are part of a pilot programme.—VNS Photo Gia Loc
The pilot programme appears to be successful but the schools continue to face a shortage of qualified teachers and rooms to accommodate families looking for quality daycare facilities.
Rang Dong Kindergarten in HCM City's Tan Phu District is one of the kindergartens involved in the pilot programme being implemented in the city's 12 districts in the 2015-2016 school year.
At the kindergarten, the young children are taken care of in two different rooms with new equipment and facilities.
Groups of three caregivers each take care of six children aged six to 12 months and eight children aged 13 to 18 months for the first week. Then after that, groups of two teachers are responsible for the children.
Nguyen Thi Hoang Oanh, a parent from Tan Phu District, said she "felt secure" about leaving her 10-month-old daughter at the kindergarten.
"I couldn't find anyone to take care of her, and I couldn't afford a private caregiver," she said.
After taking the six-month maternity leave granted to all working women in Viet Nam, many mothers like Oanh cannot find affordable, quality daycare for their children. As a result, the city decided to require enrolment of younger children at kindergarten.
Chung Bich Phuong, deputy head of Tan Phu District's Education and Training Division, said that she had told kindergartens to select teachers with experience.
"Ensuring safety for the children is very important," Phuong said.
Before the pilot programme began, the city offered professional training to the caregivers.
Nguyen Thi Ngoc Thuy, principal of Hoa Anh Dao Kindergarten in Tan Phu District, said the school was ready to help teachers who were under psychological pressure.
A teacher at the Hoa Hong Kindergarten in Binh Tan District told a reporter from the Viet Nam News Agency that it was difficult for two teachers to take care of eight babies.
Classroom shortage
Because of the need to set aside classrooms for children aged six to 18 months, kindergartens have had to reduce their enrollment quota for children 19 months and older.
Ho Thi Xuan Dao, principal of Rang Dong Kindergarten said the school could only enroll about 30 children aged between 25 and 36 months instead of 60 in previous years.
The school could only meet 40 per cent of demand for children aged 37 months to four years, she said.
"We couldn't enroll more because of a shortage of rooms and teachers. I expect that more kindergartens will be built in my district," Dao said.
Phuong of Tan Phu District's education division said: "This district has a large number of migrants. If another kindergarten begins to accept young children, then they may have to cut spaces for older kids."
The district has only 12 public kindergartens that can accommodate only 40 per cent of nearly 34,000 of children aged 5 and under.
Kindergartens enroll children up to five years old.
"We have asked private kindergartens to receive the five-year-olds that we cannot enroll, and to charge them a lower fee. Eleven private kindergartens in our district have agreed to do that."
Other districts such as Thu Duc, Go Vap and Binh Tan are in the same situation as Tan Phu District. Public kindergartens have met less than 50 per cent of demand.
The city has 11 wards without any kindergarten, district education officials told the People's Council at a recent meeting.
At the beginning of the school year, 135 new classrooms were added but the number was not enough, the officials said.