A pioneer in cultivating art appreciation in students and fostering their abilities to the highest level, the International School Ho Chi Minh City (ISHCMC) has been nurturing young artists for almost two decades.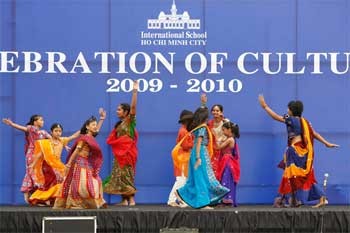 Students perform an Indian dance at ISHCMC's Celebration of Culture concert in October 2009 (Photo: ISHCMC)
At its An Phu Campus in District 2, the school offers academic and art education from preschool to high school and awards diplomas from renowned world organizations.

Starting from the philosophy that each student has a unique set of strengths and abilities, ISHCMC promotes a student-centered learning environment and encourages creativity.

Starting in primary school, every student spends an hour and a half each a week in art classes where they experiment with several techniques and materials including paint and clay.

They also learn music, drama and performance art. As the students grow, so does the time they spend studying the subject. Once in high school, students can choose to delve even further into arts studies as prerequisites for university entrance with the help of school advisors.

ISHCMC lecturers believe in fostering students' passion to help them succeed in their future endeavors.
For instance, the school holds an annual Visual Art Exhibition featuring works by most of its students. The school's Multi-Purpose Room is turned into a flowing exhibition space for the event and displays a diverse range of media and themes created by students from Kindergarten through Grade 12.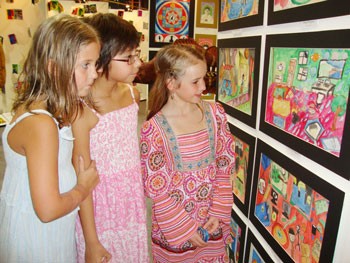 Student artwork on display at ISHCMC's Visual Art Exhibition 2010 in March. (Photo: Le Linh)
The work encompasses sculpture, painting, print-making, collage, ceramics, digital art and installation. There are many instances where students have creatively combined more than one art form to create mixed media work. Some students have also challenged the traditional genres of portraiture, landscape and still-life by exploring them in rich and diverse ways.

Every student has a chance to show off their talent and even have their work evaluated by foreign professionals attending the event.

Some of the students, whose art is judged to be exceptional, have also traveled overseas to compete in international competitions. The more experiences the students gain, the more their art improves as a result.

In the development of their work, students also research other artists and investigate cultures both ancient and modern from Europe, Asia, Australia and the Americas. Themes are equally diverse and designed to foster open-ended enquiry.

With no limits or borders, the students can let their learning and imagination run wild.

This year, ISHCMC also held a parade of wearable art made by Grade 9 students. The artworks were inspired by a presentation given by Trish Franklin of the Loreto Program to the students on poverty in Vietnam.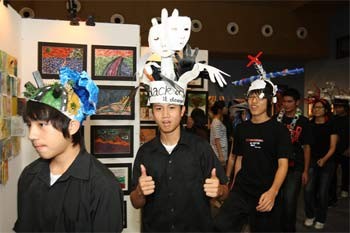 Grade 9 students don hats, which they created for a parade of wearable art at ISHCMC (Photo: ISHCMC)
The artworks were designed by the students to communicate social and environmental issues. Ms. Franklin was then presented with a donation to the Loreto Program of US$900. Grade 5 students also chose to create and sell ceramic jewelry, and design and make three mosaic tables which were then auctioned with proceeds going to the program.

Speaking about the school's art program and its vision, Mr. Nick Mavrogordato, who heads the Visual Arts Department, said: "Arts promote learning through enquiry in unique and specific ways. Events like this one provide us with an understanding of the ways in which young people learn about their world and express their understanding of it in visual form."

Fostering individual ability with teachers from over 16 countries and a teaching schedule of at least 180 days a year, ISHCMC serves families from over 36 countries. The newly opened Nam Ky Khoi Nghia campus in District 3 aims to encourage a new kind of student, one with a strong foundation  both  in  Vietnamese  language  and  literature  and  in  English,  fitted  with qualifications that will open doors to educational institutions all over the world.