The seventh ASEAN inter-universities workshop themed "Social Welfare, Peace and Sustainable Development" was held to discuss strategic matters of sustainable development of each country member as well as the whole South-East Asia.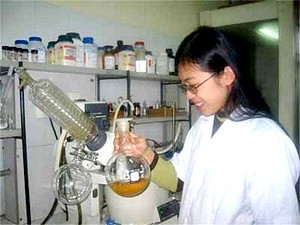 A scientist is doing laboratory research
The workshop also promotes mutual understanding and relationships between Viet Nam and other countries in the region, especially in the fields of science, education, economy and cultural exchange.
Speaking at the workshop, Mr. Pham Gia Khiem, a member of Politburo, Deputy Prime Minister cum Foreign Minister, appreciated the good preparation of the organizing units and reaffirmed that the Vietnamese government and people will work with other peoples in region and in the world in research for the utmost aim of social welfare, peace and sustainable development.
The workshop was attended by nearly 250 scholars, managers and scientists, 80 scholars from large universities in Europe, the US, Australia and ASEAN countries and 50 Vietnamese scientists of many research fields from Viet Nam National University-Ha Noi, Viet Nam National University-Ho Chi Minh City (VNU), Can Tho University, An Giang University, sub-institutes under Viet Nam Social Sciences Institute and other science agencies.
The seventh ASEAN inter-universities workshop was held on July 19 in Ha Noi by the national education council, Viet Nam National University-Ha Noi in coordination with the National University of Singapore.