This year's agenda at an annual conference held between the Ministry of Education and Training and international aid organizations included discussions centering around the current status of the education system, future development priorities and strategies for the most effective use of Official Development Assistance (ODA) funds to increase the quality of the education system.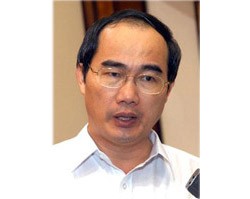 Education and Training Minister Nguyen Thien Nhan
Conference participants were told that the number one goal between now and 2010 is the construction of pre-schools in remote communes, border areas, and islands and the provision of teachers to villages in dire straits and inaccessible villages inhabited by ethnic minorities.
 
Education and Training Minister Nguyen Thien Nhan asked donors for technical and financial assistance to be used for vocational training development, promoting forecasting capacity on needs of human resources and the construction of three national centers for training high-tech experts.
It is estimated that the projects will cost a total of US$12 million.
Ministry officials added that Viet Nam needs around US$100 million per year between 2006 and 2010 to raise the overall quality of the system and ensure that goals are met.
Donor representatives also expressed concerns regarding the professional quality of teachers, the conditions for ensuring the education quality and fairness, and especially problems faced by disadvantaged or special-needs children.
The meeting was held in Ha Noi on January 29, and was presided over by the Minister of Education and Training with representatives from the World Bank, UNESCO, and Oxfam in attendance.