Hessen's Minister of Science and Technology Eva Kuhne Hormann ranked the Vietnam-Germany University as the German state's special project while meeting with Deputy Prime Minister Nguyen Thien Nhan in Hanoi on September 16.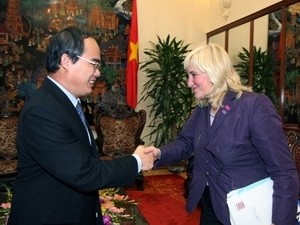 PM Nguyen Thien Nhan (L) and Hessen Minister of Science and Technology Eva Kuhne Hormann.
This is the first public university to be developed overseas by a German state and a nation, she said, adding that the university's council is scheduled to meet on November 4 for a final decision on implementation of development plans.
Deputy PM Nhan expressed his hope that the German partner will choose the best suitable model and project management for the university soon.
He said the World Bank accepted a preferential loan for the university's development.
The Vietnam-Germany University launched its first course in September 2008 in Ho Chi Minh City, focusing on engineering and natural sciences.
The same day, a ceremony was held at the Temple of Literature in Hanoi, to grant scholarships from the University Support Organisation (WUS) to 71 students in Hanoi and surrounding areas in the presence of Minister Eva Kuhne Hormann and the WUS President Kambiz Ghawami.
The scholarship recipients are among 165 academically excellent university students nationwide who registered outstanding achievements in their study during the 2009-2010 academic year.
Similar ceremonies will be held in the northern province of Thai Nguyen, central Da Nang city and Ho Chi Minh City in early next year.
Through WUS, Hessen's Ministry of Science and Technology has granted scholarships to Vietnamese students over the past 15 years. Last school year, it provided 150 scholarships.
Under an agreement between the Vietnamese Ministry of Education and Training and the Hessen Ministry of Science and Technology signed in September 2007, the German state welcomes 85 Vietnamese students to study at PhD level each year from 2008-2020.