The new academic year has been moving along for three weeks now, but the Ho Chi Minh City Department of Education and Training is still busy finding educators to replace the 1,809 teachers who left their jobs last year.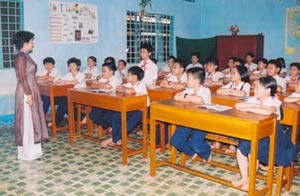 A classroom in Cu Chi District, Ho Chi Minh City

Every year teachers leave the profession due to old age or health problems, but the recent increase in the number of vacancies has been attributed to the general working conditions. Many teachers feel that the job requires too much work, and they are paid too little for it.

Under the pressure of finding new educators to accommodate this year's students, the department began a recruitment campaign in hopes of finding 3,833 new teachers; however, thus far only 2,370 candidates have met the required standards.

In a second recruitment program, the department opened its doors to candidates who had quit teaching since 2003 and even those who didn't meet the standards of the first campaign. But even with these new measures, only 614 candidates were recruited instead of the 1,380 teachers as planned.

This shortage of educators is felt in most primary schools, and local high schools are in desperate need of teachers of almost all subjects (excluding English and chemistry).

According to Mr. Ho Quoc Anh, Head of the Can Gio District Department of Education, the district currently lacks 45 teachers of all core subject areas including math, chemistry, physics, biology, and English; thus, most of their current teachers are being overworked to compensate for this lack of human resources in the district's educational sector.

Surprisingly, only a few years ago when students of the HCMC University of Pedagogy were exempted from tuition fees, the city warned that a large number of graduates from the teaching school might face unemployment.

However, things have been much different over the past three years. Dr. Ta Quang Lam, Deputy Head of HCMC University of Pedagogy said, the city is facing a serious shortage of teachers. The root of this problem lies within the imbalance between the city's demand for teachers, and the limited number of graduates allowed through the training program.

Therefore, Dr. Lam added, the problem can only be solved when the city figures out how to accurately measure their need for teachers against the increasing number of schools and students in the city, and then creates a better plan to train and maintain educators.